GENERAL DESCRIPTION OF THE COURSE
The subject highlights the principles and objectives of sustainable strategies in spatial development and planning. The study area covers development trends in European Union countries and the basics of the theory and practice of regional spatial strategies in Slovenia. Students gain basic knowledge on spatial development conceptualization, which requires the interdisciplinary approach of the collaboration. The course is focused on the spatial development with an emphasis on urban structures (the development of cities and human settlements), the knowledge of the appropriate graphic methods and tools, and acquaintance with the most important professional terminology. Through working on practical case study, the student obtain the knowledge about analysis of current state, spatial analyses and synthesis, develop spatial alternatives, and select the most optimal ones.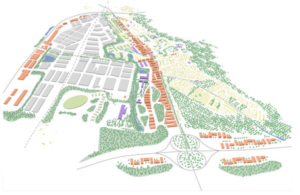 COURSE CONTENTS
The course will cover the following topics:
Fundamentals of regional/spatial planning issues, basic terms, principles and goals of sustainable spatial development
historical overview of regional/spatial planning development
Institutional and legal framework of regional/spatial planning: EU-, national-, regional-, local planning documentation overview
development concepts, programs, strategies
definition of regions and regionalization
spatial relations and elements (typology, systems, development networks, axes, floor space characteristics)
System of urban structures, System of infrastructure networks, System of green areas
Development of spatial structures in terms of the land-use characteristics: production areas, central areas, service structures, agriculture and countryside areas, natural and cultural heritage.
STUDY MATERIALS:
Schindegger, F., Raum.Planung.Politik., Wien, 1999
Grundriss der Landes- und Regionalplanung, ARL Hannover, 1999
Hall, P., Urban Future, 2000
Spatial Development Perspective (ESDP)
Spatial Development Strategy of Slovenia