GENERAL DESCRIPTION OF THE COURSE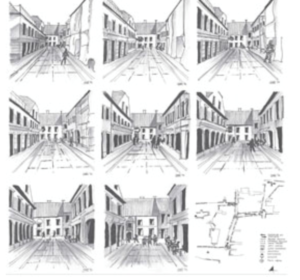 The course will be presented with principles for the design of the modern city and the and methods for  modern city planning. The aim of the course is to familiarize students with the characteristics and basic principles of spatial development of cities and city planning, with particular emphasis on selected analytical and cognitive methods, which enable forecasting the development process of the city. These are based on an understanding of the possibilities for the design of the modern city and the starting point of modern city planning. Elective course explores the issues of establishing and developing contemporary urban spaces such as regenerators of urban structures. 
COURSE CONTENTS
Introductory lectures are focused on understanding the morphology of the city and its spatial and historical content. Students learn about the characteristics of observational, analytical, conceptual and planning drawings and different approaches (Lynch and Cullen, Four traces) to the understanding and presentation of urban spaces. It presents the typology of open spaces and the meanings and functions of the urban landscape. Students learn aspects of the experience of urban space. Lectures illuminate approaches to minimal space interventions and improving the living and experiential quality of degraded urban spaces.
STUDY MATERIALS:
Alexander C.: Pattern language, Oxford University Press, New York, 1977
Philipe P., Jean C., Jean-Charles D., Ivor S: Urban Forms, Architectural Press, New York, 2004
Spiro K.: The City Shaped, Thames & Hudson, London, 1991
Leonardo B.: The European City, Blackwell Publishers, Cambridge, 1993