GENERAL DESCRIPTION OF THE COURSE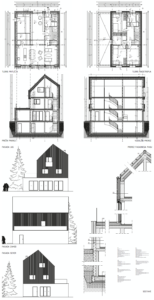 During the course, the students will acquire fundamental theoretical and practical knowledge on particular building elements and their joining into structural components. The contents will be presented from the aspects of functionality, structural solutions, design variations, use of various materials, technical understanding of economy, and logics of the execution of particular building structures. Emphasis on design and technical drawings of detailed plans of basic building elements and structures.
COURSE CONTENTS
The course will cover following topics:
Basic architectural structures; emphasis on design and technology
Roofs: construction, materials, technology, claddings
Structural openings; composition, mounting, types of windows; doors
Shades, eaves, pergolas, winter gardens
Energy-efficient building design (basics)
Insulation: systems, materials, components
Fire protection, chimneys
Communication systems: stairs, ramps, elevators
Partition walls, ceiling constructions: variability, flexibility of systems
Wall finalization: claddings
Flooring: types, characteristics
External design (drainage, paving).
STUDY MATERIALS:
Brezar, V., Stavbarstvo, UM, FG, Maribor, 1995; Seliškar, N., Stavbarstvo, Ljubljana, 1990
Mittag, M., Baukonstruktionslehre, 2000
Neufert, E., Projektiranje v stavbarstvu, 2002
Neufert, E., Architects' Data, Taschenbuch, 2012
Andrea Deplazes (ed.), Constructing architecture: materials, processes, structures, Handbook, 2008, 2014; http://www.sze.hu/~eptansz/Deplazes_Constructing_Architecture.pdf
Planning and building regulations
Powerpoint slides, broshures